Top Ten Tuesday is a weekly meme hosted over at
The Broke and the Bookish.
This my first TTT so I am super excited to do this :)
This week's question:
"Top ten reasons I love being a reader/book blogger"
1. I love being a reader because...
There's an Adventure on every page.
As a fiction lover when I read I get to visit new worlds, new realities places where one can never go, to whole different dimensions and time frames. Into multiple minds and head spaces. Reading expands the mind and opens it, reading fiction especially nurtures our imagination. And that's why I love reading
because it takes me to epic places each and every time.
2. I love being a blogger because...
I can meet amazing people.
I am a fairly new blogger it's only been about more than a month since I started, and during this short period of time I have interacted with so many awesome people, people who I can relate to, with whom I can talk about my excessive book feels and it's amazing!
3. I love being a reader because...
I escape from reality.
I can escape from reality, from the constant stress and pressure of real life. When I read book I go blind, deaf and dumb to the people around me and totally dive into the world of fiction. I crawl into the words and live there forgetting my thoughts and worries. No matter how angry, annoyed or stressed I am books always cheer me up. To me they are like life support or a lazy buoy or even a bunker. I completely and utterly lose myself in books and I love it!
4. I love being a reader because...
of the FEELS!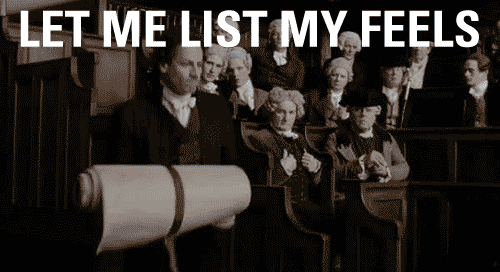 I love feeling the emotions and growing fond of the characters. I love the book feels love them love them love them ! I love laughing with the character feeling there happiness there sorrows their emotions all the while forgetting my own. I love living their lives along with them.
5. I love being a reader because...
of these books:
6. I love being a blogger because...
I can share my feels.
I can express my feels, my love and my passion for books. I can share my thoughts with amazing people. Get recommendations and connect with readers all around the world.
7. I love being a reader because...
of the people IN the books <3
I love reading books because of all the amazing people I get to meet in the books. The heroes, the villains, the damsels, the warriors, the angels, the humans, the magicals and let's not forget the book boy friends *sigh*
8. I love being a reader because...
it increases my knowledge and nurtures my imagination.
Many people would disagree with me saying that reading fiction doen't contribute to knowledge well guess what Einstien disagrees with you :p
"If you want your children to be intelligent, read them fairy tales. If you want them to be more intelligent, read them more fairy tales."
―
Albert Einstein
9. I love being a reader because...
books change us.
No matter what kind of a book we read it leaves an everlasting impression on us. Movies and music tend to leave these sort of impressions to but they are too dim and rare compared to the book. Books change us shape us the create us. They play a great part in shaping a reader's way of thinking and opens a persons mind to new things. They effect us on a spritual and physcological level and that's why thery are soo epic :)
10. I love being a reader because...
they are so much FUN!
...................................................................
So what do you think of my list? and what are your top ten reasons?